This article is focused on guys who are just starting to use the Adonis Index systems and are seeking clarity on how to use the workouts to their benefit. If you want to make a successful transformation and even win our contest this information is for you.
FYI make sure you read the whole article to its end!
Everyone who goes through our contests and crosses the finish line reports a huge shift in there perspective of life, accompanied with  improved confidence, and also an amazing physical and mental transformation. The question is what sets the winners apart from the guys who give up and don't finish (not everyone finishes the contest)?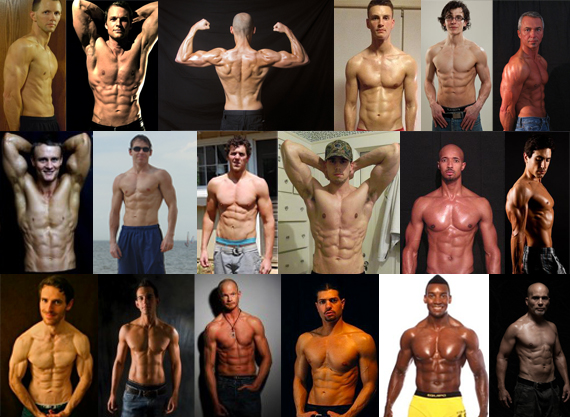 So what exactly makes you a winner? What defines a champion?
Well, if you've listened to a couple of our interviews with the winners (if not I encourage you to do so) you've probably noticed that certain points were emphasized by almost all contest winners.
I've listened to every single interview we have ever done at least once and after listening to them I've realized that there were 10 key points repeated almost every time.
Here they are…
Lesson #1: Get Going…Learn on the Fly!
Usually when somebody gets into the Adonis Lifestyle community, he starts asking a bunch of questions, which is a great thing, because that's what the community is for.  However, the issue is when your couple questions turns into long term discussion over the workout's or diet's effectiveness even before giving it a try.
If you follow Pareto's principle, then preferably you would want to spend 80% of your time practicing and 20% of your time reading new information or tweaking your current approach.
While the community is one of the best tools we have, you don't want to spend 3 weeks there before actually going to the gym and trying the workout. All the information and help we provide should be viewed as a guidance and supplementation to your actions.
With that being understood, start going to the gym first and then use your down time on the weekends to listen to  some podcasts and share your challenges inside the community.
Lesson #2:  What Drives You to Take Action?
In my last article we've talked about figuring out your "why" – your reason why you are working out and maintaining a good diet. Which is in my opinion, your primary driver. Once you know the reason for your goals it's easier to achieve them.
If motivation is an issue and you feel down all the time, read this:  The Key to Lasting Motivation
Lesson #3: Don't Change the Workout…Stick to It!
One of the issues with inexperienced guys who never get the body they want is that they jump from program to program. They are simply never satisfied with the structure of the program.  They feel pumped for the first week or two and share their excitement with friends, but after about 3 weeks they become bored.  Feeling frustrated because they didn't see any massive gains, they jump to a different program and then wonder why they look the same as they did  last year.
If you want results you need to go to the gym regularly and stick to the workout plan as it's designed and continue to follow that workout plan in its entirety  (yes, 3 weeks simply ain't enough, muscle growth is very slow).       A realistic and achievable goal is to stick to the program for 12 weeks. After comparing your starting and final progress pics, it's up to you to decide in which direction you are to continue.
Lesson #4: Form Comes First Before Weight
This should go without saying but almost every beginner (myself included back in the early days) and the vast majority of regular trainees with some experience neglect this and everyone goes for the biggest weight plates and heaviest dumbbells in the gym despite the fact they are just not strong enough to train with them.
I firmly believe that the weight you are able to lift and the weight you are able to train with ARE DIFFERENT. The word "training" is not about lifting some weights, it's about conditioning your muscles;  it is for that  reason we focus on proper form. If your form sucks and your bicep curls look like a "Good Morning" back exercise, you're likely to be injured long before the time you will build any muscle.
Lesson #5: Focus on Muscle Activation
This goes hand in hand with the lesson four.
Anyone who has some solid weight training in their background knows exactly what muscle activation feels like.  If you don't have that much experience, don't worry it's something you will learn and master over time.
As you progress through the beginner's stage and gain strength, you will be able to feel your muscles in a completely different way. It's at this stage when you should feel comfortable with basic form and begin the art of  focusing on the reps in each exercise more so than just the weight. For example, what do you're muscles feel like as they complete each rep?  If your goal isn't to be a power lifter, but rather a "body builder" then this is what you should focus on.
I always though that building muscle is just about moving some iron around in the gym. On the contrary, guys who get the best results are usually the ones who can activate their muscles properly.
Check this out for more information: Give Yourself Permission to Lift Light
Anyway, this is the end of Part I, so stay tuned for Part II.
Talk to you soon,
Vaclav Gregor
PS: Would like to guess the other 5 key lessons we will talk about next Friday? Let me know in the Adonis Lifestyle Community here.
PPS: If you are wondering who are the ripped gentlemen on the picture above, you can check out their stories here.